How Is Digital Marketing Helping Small Businesses In India?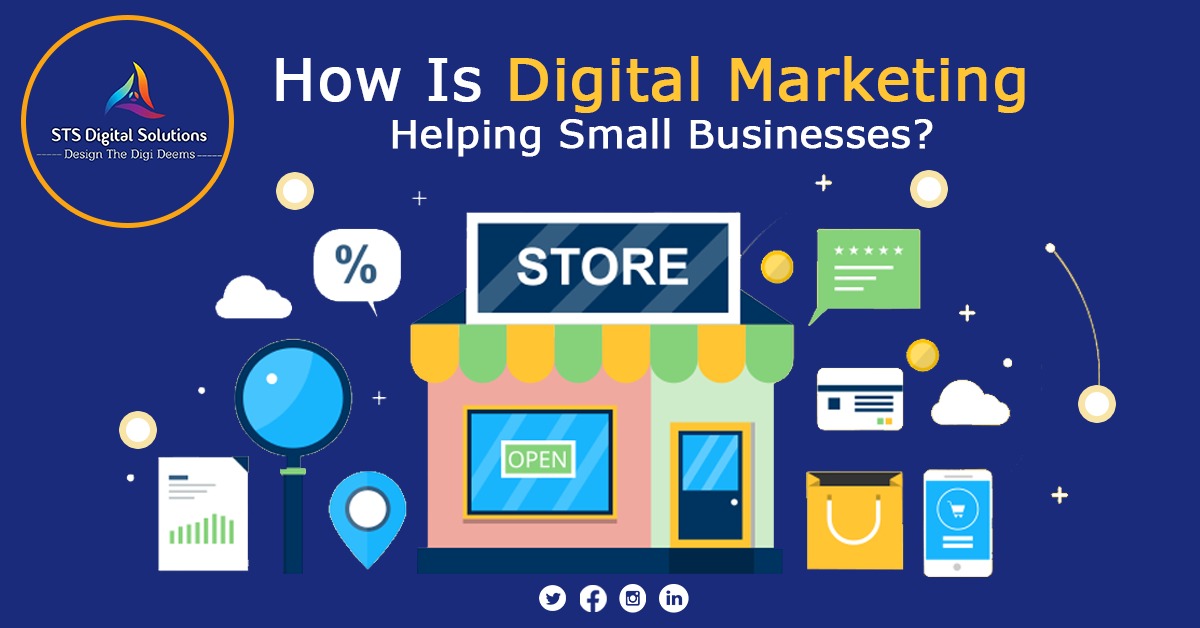 How Is Digital Marketing Helping Small Businesses In 2022?
Unlike large enterprises with heavy funding and finances, small businesses have a hard time making a long-term impact without adequate amounts of marketing. Fortunately, Digital Marketing allows these small businesses and entrepreneurs to have the same level of brand exposure that only large organizations have access to. It has enabled small businesses to communicate with their potential audience and make them aware of their brand's product and services offered and finally, convert them into lifelong customers.
Before diving any further, let's first get to know the basics in brief.
What is Digital Marketing?
Digital Marketing, also referred to as Online Marketing, surrounds all the marketing endeavors that use an internet-enabled device as a medium to connect with their existing and potential customers. It is a technique for promoting your business on digital platforms, through various digital media channels. It provides the power to the small businesses to access a vast demographic that is beyond their range. It also helps you keep your potential audience informed of new incoming products, thus keeping their interests up.
Why is it significant for small businesses?
Every small business dreams of having consistent leads that convert into sales. A well-planned digital marketing strategy can transform this dream into reality. Small businesses in India are currently on their meteoric rise and with this level of upsurge and enhanced penetration, new businesses must use digital marketing tools to their advantage, reach and capture their potential audience.
Here are some ways in which digital marketing can be of great help to the small businesses:
1. Reach More Targeted Audience
One of the main objectives of any marketing campaign is to reach its potential customers and with digital marketing, it's easier to do so and even better. Especially, if your business is a start-up and you are at your initial stage, with the help of digital marketing you can channel your finances and advertisements toward those potential customers only who are most likely to convert into regular customers.
2. High Conversion Rate
The conversion rate refers to the percentage of internet users visiting your website or page and who perform the desired result. Through the right kind of digital marketing strategy, you can only target those who seem interested in your products and will make the desired goal.
3. Increased ROI At Lower Costs
It is a blessing for small businesses to get across what they are selling to their potential customers at low costs and generate high revenues, digital marketing enables this to happen. Large organizations have finances to fund their marketing campaigns whereas, small businesses try to keep their expenses low and increase revenues.
4. Helps You Get Ahead In The Competition
Previously, it was near impossible for small brands to compete with large organizations because of lack and budget constraints but if you use digital marketing correctly and creativity, you can reach the heights too.
5. Enhances Your CRM
A lot depends on customer satisfaction and this is only possible when you have established a strong relationship or bond with your customers. Now with the help of digital marketing, small businesses are no longer restricted due to a lack of funds and can build CRMs just as good as any other large business.
6. Enables Efficient Future Campaign's Tracking
Through digital marketing, you can track and measure which particular strategy or campaign has provided you with the highest ROI which is very difficult to do through traditional marketing.
7. Global Reach While Being Local
Traditionally, small businesses are believed to be local but digital marketing is helping break these stereotypes and geographical barriers, enabling you to fully expand your business.
8. Enables Highly-Personalized User Experience
Digital Marketing helps you create an enhanced experience for your customers by making it more convenient, seamless, and extremely accessible.
Which digital marketing channels can one use for their small business?
Here are a few Digital Marketing tools and channels that you can utilize to grow your small enterprise:
Search Engine Optimization
Social Media Marketing
Content Marketing
PPC Advertising
Email Marketing
Affiliate Marketing
Your future customers are likely to be surfing the internet casually and staring at their smartphones. You need to take authority, put what your business is about in front of them, pitch your services and products, and make a deal today by incorporating Digital Marketing!
---
Consulting Agency for Your Business
We build a system that spends less to get more business leads. Get in Touch with us Today..!!