What Do You Mean By Mobile Marketing Strategy?
What Do You Mean By Mobile Marketing Strategy?
Mobile Marketing is an advertising activity that promotes products or services through mobile devices. This approach makes use of features of modern mobile technology, including location services, to tailor marketing campaigns based on an individual's location. Mobile marketing is a strategy in which technology can be used to create personalized promotion of goods or services to your targeted audience.
Why is Mobile Marketing Important?
The amount of content on mobile devices is simplified due to the smaller sizes of mobile. As mobile devices are smaller and lighter than laptops and computers, users can easily carry them everywhere and make purchases at any time they want.
Mobile accelerates the time to purchase by 20 percent.
Fifty percent of smartphone users expect to buy something immediately while using their devices.
Approx. ninety percent of smartphone users plan purchases or buy individual items after seeing relevant ads.
2/3 of customers who use smartphones are likely to purchase from businesses that have apps or mobile websites with content customized to their location.
Approx. 40% of online transactions happen on mobile devices.
Types of Mobile Marketing
There is a variety of mobile marketing techniques to try for a business. Facets like budget, a particular industry, and customer segment determine the success of the strategy. That said, further are some mobile marketing options:
Mobile App Marketing- Apps allow businesses to include ads in specific mobile application designs. Facebook ads are an excellent example of an ad in an app.


SMS Marketing- This method of mobile marketing is, by far, the most common. Marketers use this medium to reach out to customers with offers and other relevant information via their mobile gadgets.


In-game Advertisements- This technique refers to advertisements on mobile devices that pop up when certain games are opened or in progress. These ads can appear as banner pop-ups, full-image ads, or video ads that show up during loading screens.


Quick-response Barcode (QR codes)- These barcodes are scanned using the camera of a phone, and then the customers are redirected to the linked site from where they can see more information regarding a particular brand.


Voice Marketing- This is when businesses use computer produced and automated calls to promote their goods or services. It is up to the customer to decide whether to hang up or listen to the phone call.


Proximity or Bluetooth Marketing- In this, consumers get location-specific ads enabled from the Bluetooth on their devices.


Mobile Banner Ads- These banners are pretty much the same as the ones on the desktop, only that they are adequately smaller to fit on the screens of mobile devices.
How to do Mobile Marketing?
Research your target customers- A marketer should conduct thorough research on their consumer demographic to gather useful information such as what they like, the sites they visit, the apps they use, and so forth. This information enables the marketer to create effective ads.


Leverage opportunities on social media- To effectively market a brand, marketers should create ads that are appealing to large numbers of social media users.


Set Goals- Measuring the results and progress of a particular mobile marketing strategy is only possible if the purposes of the campaign are set beforehand.


Create mobile-friendly campaigns- Since the aim is to market a brand via mobile devices, it is imperative to create content, apps, or websites that are fit for mobile usage.


Perform location-based marketing- One of the most effective ways of minimizing the bounce rate is by providing ads that are relevant to the target audience. Use tools such as Google Trends, GPS, and apps like Google Local inventory to send out campaigns that resonate with the target demographic.


Consider the unique features of mobile devices- Create ads that can be engineered by different mobile device features to make the user's experience memorable. For instance, rather than creating video ads that cannot be paused, one can put up an advertisement that can be paused, rewound, forwarded, and so forth to enable customers to get a clearer picture regarding a product.


Offer incentives- Providing some rewards or offers will encourage prospective customers to take action.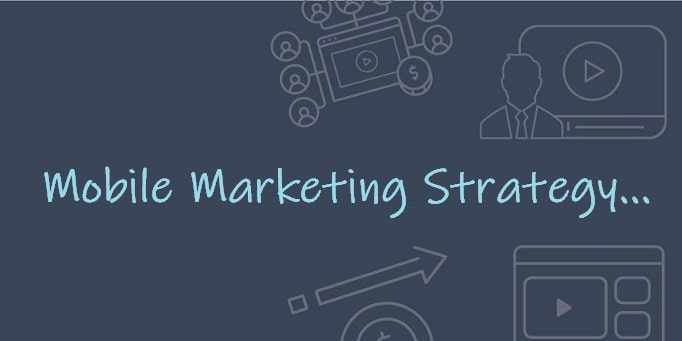 Mobile Marketing Strategy
Keep it simple
The first thing we all need to understand for creating an ideal mobile marketing strategy is that it has to be intelligible. As the amount of time people are spending on mobile is growing, their attention spans are getting lower.
For this reason, your mobile marketing message needs to be lucid. Every facet of your mobile marketing strategy needs to be simplified, to allow it to be consumed in a shorter period by your audience.
Speed Things Up
The average mobile use stretch lasts just over a minute. But don't get deceived by this, if you keep your approach simple that's more than enough time to conduct research, analyze options, and even convert.
Speed is another reason it's important to keep things simple. The cleaner your interface and the clearer your message, the faster your users can make it through their desired series of actions to complete their intended goal.
Provide what your customer needs
The mobile touchpoints that matter occurs around the clock, so making sure your brand is there to connect is an imperative part of developing your mobile marketing strategy.
Make sure your marketing message is what shows up when your customers are searching. This can be done in different ways. You can optimize your existing content strategy for mobile, make it easier to pull the relevant information from your posts in a few moments. You can also turn your focus toward an optimized mobile advertising strategy on AdWords, Facebook, etc.
Pay attention to mobile-friendly SEO trends
The majority of online searches now come from mobile rather than desktop, and this means that the world of SEO is evolving as well. In 2017, Google a promulgated that it was commencing mobile-first indexing, meaning that over time, Mobile SEO will become more important than desktop. It is crucial to optimize your SEO for potential keywords more regularly used in mobile searches.
Create an Integrated App
If your company doesn't already have one, contemplate whether an integrated app is something that your customers need. As the popularity of apps is rapidly increasing and the fact that users turn to them regularly, apps are becoming a crucial part of a successful mobile marketing strategy.
For instance, fashion retail brands have made their apps a crucial part of their customer's shopping experience. Not only does the app make the affair of shopping faster and easier, but users also get a customized selection of recommendations based on their interests. On top of that, they are the first to know about the discounts and new releases, making the app a win-win situation for both the company and users.
Analyze the parts of your business that your customers might find frustrating or confusing and try to eliminate or modify them.
Analyze your customers' habits
Your customers' habits are pivotal for understanding what role your mobile marketing strategy should play in the big picture.
Recognizing what your customers do before making a purchase decision is crucial. Identify the steps your customers made before reaching out to you on mobile and use that information to meet them on their level.
Test and Optimize
The most crucial part of any mobile marketing strategy is understanding what works and what doesn't. Without a thorough understanding of how your mobile marketing is affecting your business, you will never be able to identify which parts need to be optimized or eliminated, and the parts that are succeeding and need a budget increase.
Mobile Marketing Automation
Mobile marketing automation is software that controls and monitors actions related to a mobile marketer's workload. This means automation is designed to perform tasks that would otherwise have to be completed manually or would be too time-consuming to perform at all.
Automation can aid you with everything from segmentation and personalization to analytics and messaging. For instance, it can be used to segment a large number of audiences into cohorts (groups based on defined attributes), giving marketers more time to analyze how those segmented audiences should be targeted. Strategic actions that are implemented to attract those users, such as push notifications or in-app messaging, can also be performed autonomously.
Wrapping Up
Mobile Marketing is constantly evolving, therefore it's crucial to stay on top of the latest movements and trends. When differentiating marketing of your website or your mobile app, both present their challenges. We, at STS Digital Solutions, make sure to recognize these challenges and get you your desired results.
---
Consulting Agency for Your Business
We build a system that spends less to get more business leads. Get in Touch with us Today..!!