Top 10 Step SEO Audit Checklist for 2021
How To Perform A Technical SEO Site Audit [2021]
On-page SEO, Off-page SEO and technical SEO can be regarded as three pillars of organic Search Engine Optimization. Out of the 3, technical SEO is most often ignored most likely because it's the trickiest to master.
Technical SEO isn't that tricky once you get the basics down, you may even be using a few of these tactics and not know it. Thanks to the ever-growing competition in the digital marketing space, marketers cannot afford to shy away from the challenges of technical SEO—having a site that is crawlable, secure, and fast has never been more essential to ensure your site performs well and ranks well in search engines.
SEO is very crucial for the success of any online business. You may have built your website well but if the SEO is not up to the mark, your website will not be able to compete.
To ensure that your SEO is at its best, you need to conduct a technical SEO audit. This will give you an idea of how your website ranks and what you need to do to improve your rankings.
What is a Technical SEO Audit?
You need to ensure that your content and website rank high in the search engine result pages (SERPs) on Google. URL structure, Site architecture, the way your site is built and coded, redirects, your sitemap, your Robots.txt file, image delivery, site errors, and many other factors can affect your technical SEO health. Keyword stuffing and backlinking from micro-sites are no longer effective. You need to up your game and get your SEO strategy in line with the latest developments.
Factors affecting your website's SEO performance:
Technical factors: These include technical aspects such as hosting, page loading speed, Indexing.
On-page factors: These include site content, target keywords, and their related terms.
Off-Page factors: These include factors such as the backlinks and outside references to your website from other websites.
You should conduct audits of each of these factors at regular intervals. This will help you to make sure that you're always up-to-date with the changing conditions in the industry.
Top 10 Steps to follow to conduct a Technical SEO Audit:
1. Identify crawl errors with a crawl report
The technical SEO audit must start with the crawling of your website. One of the initial things to do is run a crawl report for your site.
A site audit or crawl report, will provide insight into some of your site's errors. There's no use writing pages of great content if search engines can't crawl and index these pages. The crawlers help you find errors such as broken links, poor images, bad keywords and page title issues. They also help you identify duplicate content, unlinked pages, and excess redirects.
You can also use the Google Search Console to see your crawl budget. Your crawl budget is essentially the number of pages that Google is crawling on your website and how frequently it is doing that.
How to make the most of the crawl budget?
Remove Duplicate Content: Duplicate pages can waste your crawl budget. These pages normally have the same title and meta description tags.
Remove as many duplicate pages as possible. However, if you really need to keep them, block them from the search engine bots.
Provide URL parameters: Google may wind up crawling the same page twice, with URL parameters and without them as if they are two pages. You can add URL parameters to the Google Search Console. This can instruct Google that it is crawling the same page and not two of them.
Restrict indexation: There will be pages such as Privacy Policy and Terms and Conditions that may not need to be listed in search results. You can disallow these pages from being indexed and save on your crawl budget.
Fix redirects: Every redirect that the Google bot follows is a waste of your crawl budget. Additionally, if there are loads of 301 or 302 redirects, the bots may stop following them and may not reach the destination page.
You need to decrease the number of redirects during technical SEO audit to optimize your crawl budget.
2. Review Sitemap
The sitemap serves as a map for Google and other search engine crawlers. It helps the crawlers find your website pages, thus ranking them accordingly.
You need to make sure that your site's XML sitemap meets a few key guidelines:
Make sure that your sitemap is formatted properly in an XML document.
You need to have all updated pages of your site in the sitemap.
Ensure that your sitemap follows XML sitemap protocol.
Submit the Sitemap to your Google Search Console.
How can you submit your XML Sitemap to Google?
You can submit your sitemap to Google via the Google Search Console Sitemaps tool. You can also insert the sitemap (i.e. http://example.com/sitemap_location.xml) anywhere in your robots.txt file.
Make sure your XML Sitemap is clear, with all the URLs returning 200 status codes and proper canonicals. You don't want to waste a valuable crawl budget on duplicate or broken pages.
3. Check the Browsable Versions of Your Website
You need to make sure that only one "version" of your website can be browsable.
Does your website have different versions?
If it does, you'll end up sending mixed signals to the search engine. The crawlers will be confused about which version is the right one.
If the search engine is confused about the versions of your website, it won't be able to know how to show it to the people. This can drastically affect your search engine rankings.
This sort of error can occur due to desktop and mobile versions fighting it out or may be due to duplicate HTTP vs. HTTPS versions. The technical SEO audit should make sure that only one of the versions of your website is browsable.
It is a great idea to make sure that your website uses HTTPS. Even Google is making sure that searchers know which sites are secure and which aren't. You can also find "Not Secure" label next to the websites that use HTTP.
4. Check HTTPS status codes
Shifting to HTTPS is a must because search engines and users will not have access to your site if you still have HTTP URLs. About 70% of the results on page 1 of Google search are all HTTPS. If your website is already using HTTPS then you should look for common HTTPS issues in your technical SEO audit.
Your site crawl report will give you a list of URL errors, including 404 errors. You can also get a list from the Google Search Console, which gives a detailed breakdown of potential errors. You need to make sure that your Google Search Console error list is always empty, and that you fix errors as soon as they arise.
Here are a few factors you should check your HTTPS site for:
1. Links, redirects, and canonicals: All of the links on your website along with the canonicals and redirects must point to the HTTPS pages. You may have HTTP to HTTPS redirects on your website but it's not ideal to take users through redirects. The redirects can also cause a problem for crawling. This is because you will waste your crawl budget each time the Google bot hits a redirect.
2. Mixed content: The mixed content issue comes up when secure pages load unsecured content like images and videos. This can reduce the security of the page. It can even prevent the browsers from loading the entire page or the unsecured content. To assess this issue, in WebSite Auditor, go to Site Audit. You'll need to find the HTTPS Pages with Mixed Content Issues option and check it to find the mixed content.
Finally, make sure the SSL certificate is correct. You can use SEMrush's site audit tool to get a report as well.
5. Audit Page Speed
Page speed is now a ranking factor. Your site speed is an extremely crucial parameter when it comes to SEO. People don't like to wait for the websites to load and the longer it takes, there are more chances that the visitors might bounce.
If your website takes 5 seconds to load, the probability of bounce increases almost by 90%. Therefore, no technical SEO audit is complete without testing your website's speed.
You can use Google PageSpeed Insights for this. It is another powerful and free Google tool. It gives you a score of "Fast," "Average," or "Slow" on both desktop and mobile. The best part about this tool is that it shows you what you can do to improve the speed as well.
6. Ensure your site is mobile-friendly
Your website must be mobile-friendly to improve technical SEO and search engine rankings. You can use Google's Mobile-Friendly Test. It is a free tool you can use to check if you page is mobile responsive and easy to use. Input your domain, and it will show how the page is rendered for mobile and specify whether it is mobile-friendly.
It's important to manually check your website, too. Use your phone and navigate across your website, spotting any errors along key conversion pathways of your site. Check all contact forms, phone numbers, and key service pages are functioning correctly. If you're on desktop, right click and inspect the page.
If you haven't built your website to be mobile-friendly, then you should address this immediately.
You can also submit your results to Google to let them know how your site performs.
A few mobile-friendly solutions include:
Increase font size
Embed YouTube videos
Compress images
Use Accelerated Mobile Pages (AMP)
7. Use Google Analytics
You need to make sure if your analytics service is reporting accurate live data. If it is doing it right, then the code has been installed correctly. You need to check this during the technical SEO audit. The tracker code for Google Analytics has to be placed above the header of each web page. The site speed area in Analytics is packed with a lot of useful data including how specific pages perform in different browsers and countries. You can check this against your page views to make sure you are prioritizing your most important pages.
Google Analytics can also help you check your bounce rate. You need this rate to be as low as possible.
Why is it important to have a low bounce rate?
A high bounce rate indicates that people are not finding whatever they were looking for on your website. To reduce the bounce rate, you need to optimize your content and page loading speed among other things.
8. Check your site's robots.txt file
If you ever notice that all of your pages are not being indexed, the first place to look is your robots.txt file.
There are occasions where site owners will accidentally block pages from search engine crawling. This makes auditing your robots.txt file a must.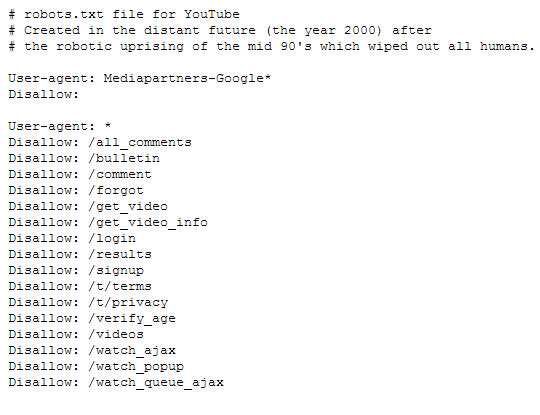 When probing your robots.txt file, you should look for "Disallow: /"
This tells search engines not to crawl a page on your site, or sometimes maybe even your entire website. You need to make sure none of your relevant pages are being accidentally disallowed in your robots.txt file.
9. Perform a Google site search
On the topic of search engine indexing, there is a simple way to check how well Google is indexing your website. In Google search type in "site:yourwebsite.com":
It will show you all pages indexed by Google, which can be used as a reference. A word of caution, however: if your site is not on the top of the list, you may have a Google penalty on your hands, or you're accidently blocking your site from being indexed.
10. Check for broken links
Any type of broken link is not at all good for your SEO; it can waste your crawl budget, create a bad user experience for people viewing your site, and lead to lower rankings. This makes identifying and fixing broken links on your website vital.
One way you can find broken links is to check your crawl report. This will provide you a detailed view of each URL that has broken links.
Get your technical SEO healthy
These are the basics of technical SEO, any digital marketer worth their salt will have these fundamentals working for any website they manage. What is really intriguing is how much deeper you can go into technical SEO. It may seem daunting but hopefully once you've done your first audit, you'll be keen to see what other improvements you can make to your website. These ten steps are a great start for any Digital Marketer looking to make sure their website is working effectively for search engines.
---
Consulting Agency for Your Business
We build a system that spends less to get more business leads. Get in Touch with us Today..!!